At present, FPT Telecom is operating two member companies
FPT TELECOM INTERNATIONAL ONE MEMBER LIMITED COMPANY
(FPT TELECOM INTERNATIONAL, ABBREVIATED AS FTI)
Established on 22 May 2008, FPT Telecom International is a company under FPT Telecom. Having inherited the experience and infrastructure of FPT Telecom, which is one of the leading Telecommunications Service Providers in Vietnam, FPT Telecom International has been operating independently since the beginning of 2008 and is now considered as the best service provider in leased lines and online data by the domestic and foreign partners.
ADVANTAGES OF FPT TELECOM INTERNATIONAL:
FPT Telecom International is qualified to offer the customers in Vietnam an opportunity to use global connectivity solution packages of the highest and most stable quality.

Owning 4 international standard Tier 3 Data Centers with total area up to thousands of square meters to serve the customers renting a server, hosting, etc.

Bandwidth connecting Vietnam and other ISPs reaching 100 Gbps.

International connection (both landline cable and undersea fiber-optic cable) with total connection capacity of over 100 Gbps with multiple connections to the US, Europe and Asia (China, South Korea, Hong Kong, Japan, Singapore, Thailand, etc.).

Business scope throughout the territory of Vietnam.

Dozens of international partners such as PCCW, T-System, NTT, Singtel, Korea Telecom, China Telecom, etc.
TYPES OF SERVICES BEING PROVIDED:
Internet Leased line.
Domestic Leased line (local, intra-provincial, inter-provincial).
International Leased line (IPLC, MPLS).
Managed Services.
Services in Data Center: Server rental, backup center, server colocation services, hosting, etc.
Domain name, Digital signature.
Corporate VoIP phone, the prefix 1800/1900, etc.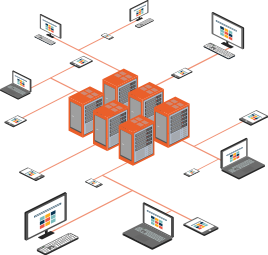 MAIN OFFICES IN TWO BIG CITIES: